Gellyball Party Rental
Enjoy full-day rentals with morning delivery and next-day pickup!
Book Online Now
Gellyball Party Rental
Enjoy full-day rentals with morning delivery and next-day pickup!
Sorry, this item is not available either because the particular order options (customer pickup) are not available for this item or because the date and/or time you have selected are not available. If you have any questions, please call our office at ...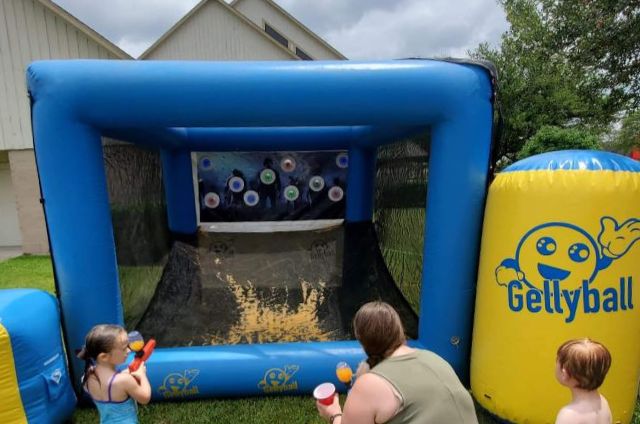 Featured Gellyball Party Rental
Gellyball Shooting Booth
Are you looking for a unique and exciting party rental that's perfect for the younger crowd? Look no further than Whataparty's gellyball shooting booth! Our Gellyball Shooting Booth provides a safe and enjoyable experience for younger kids to have a little fun away from the hustle and bustle of the older kids' activities. And, the bigger kids can practice their aim before getting started on the course!
Book Online Now
The Best Party Adventure In South Houston
Gellyball is a great way to spend a few hours blasting away your competitors. Similar to paintball, Gellyball is a much safer activity for ages four and up to safely enjoy.

Gellyball is similar to Paintball, Airsoft, and Nerf but different from each in its own way. Nerf is fun, but you are limited on ammunition and once you run out, you have to grab Nerf darts off the ground to reload which is a hassle. Paintball is fun, it's fast-paced, and very competitive. And it's not only painful but expensive and messy. And then there is Airsoft, which is very realistic and a good way to train yourself with proper shooting stance, movement, and trigger discipline. But it's expensive to get started in the sport, it is dangerous, and can only be played at fixed locations because the BBs used are made of hard plastic which are known to dent wood, shatter glass, and break skin, causing welts that really hurt!

Gellyball is a revolutionary new product and technology to the sports community. Whataparty Moonwalks and Party Rental is proud to be a mobile operator, meaning we will bring our bunkers, eye and face protection, Gellyball blasters, and Gellyball ammo to your backyard. Your kids and their friends will be ecstatic and thank you for planning such an epic experience..

The number one question players ask is "Do they hurt?" Gellyballs are far less painful and much safer than paintballs or Airsoft. Gellyballs are shot from Gelly Blasters. Our Gelly Ball Blasters use a soft gel ball, much like Orbeez, that your kids probably already play with! Shot from the easy-to-use gellyball blasters, the soft Gelly Balls burst on impact. The soft water-based Gellyballs leave no stain, mess, or sting.

Another question we get from parents is "Is it safe?" Playing Gellyball is a safe and fun adventure that builds teamwork while providing great exercise for participants. They create no mess, no stains, and no bruising on your child. We also bring masks with us to our parties for all participants to wear. We do insist players wear masks at all times when playing.

Gellyball Guns or Gel Blasters use a soft gel ball, much like a product that has been on the market for a while now known as Orbeez. These Gellyball Blasters are fun and unlike Nerf guns, where the players have to constantly reload with recycled ammo, a Gellyball Blaster holds 800 rounds without reloading! Just point and squeeze the trigger and they are that easy to shoot. Simple enough even for 4-year-old children to use, so now the younger siblings can play too.

Our Gellyball guns come with a top-mounted hopper that can hold more than 700 rounds of Gellyball ammo allowing the participants to stay in the fight for longer without running for more ammunition. Gellyball guns are an intuitive, simple, and easy-to-use product that most kids pick up on very quickly. We recommend Gellyball for kids ages 4 and up. That means parents, grandparents, and older siblings can get in on the fun too. We guarantee you will love our fun product and party services with how simple, fun, and safe Gellyball party is.
Easy Online Booking & Delivery
You can either choose to rent your Gellyball Party and other items yourself with our easy online ordering process, or you can choose to call, email, or live chat with one of our team members and they will take you through the ordering process.

After you place your order, a member of our team will contact you within 24 hours to review and confirm the order. Then, on the day of the event, your delivery driver or team will call you to verify the window in which they plan to arrive. Once we arrive, we will:

1. Set up the equipment in the safest location possible.
2. Collect payment if anything is due.
3. Show you how to operate the equipment safely.
4. Answer any questions you may have and verify pickup time.

That's it! A simple and fun way to rent a Gellyball Party.
Book Online Now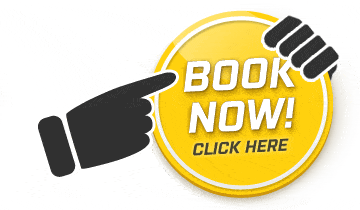 Unleash the Excitement With An Epic Gellyball Party!
When renting an item from Whataparty Moonwalks and Party Rentals, expect nothing but the best! Our safety features combined with our cleaning and sanitization processes between each rental allow the grownups to unwind a bit at your party and have a chance to socialize with friends and loved ones while the youngsters take limitless turns blasting their friends!

Being the leading provider for Gellyball rentals in South Houston, there are a few top factors our customers keep returning to Whataparty Moonwalks and Party Rental for their party rental needs. We offer some of the best customer service in the area. Many of us are parents as well and we know how stressful it can be to plan and host a party. We do everything we can to take that stress off our customers by using our online reservation system, having commercial-grade equipment with the latest safety features, and being able to provide all of that with exceptional customer service. Talk to our friendly team if you are uncertain if a Gellyball Party is the appropriate choice for your party location as well as the age of the kids.

All our rental items are sterilized and cleaned between each rental for your children's safety. We take great pride in providing safe equipment for your celebrations or events. No need to stress over a piece of raggedy, unclean equipment arriving. All our units are extensively examined and in tip-top shape, ready to go for your next event. Our customers love us for their party rentals because they understand they can count us on to provide quality equipment this time and every time.

And to make it even better, our online reservation system means scheduling your Gelly ball party rental is just a couple of clicks away. Simply surf around our website and add all the things you'd like for your rental, add them to your cart, provide us with your party information and pay a small deposit to reserve your items. Once you complete your checkout, you will receive a confirmation email regarding your event. A couple of days leading up to the event, we will send some pointers to ensure your party goes off without a hitch. If you wish to add some other things to your jelly ball party, just let us know. We look forward to bringing the fun to your next event!
Will You Deliver A Gellyball Party Near Me?
Looking for water slide rentals in South Houston? You have come to the right place. Whataparty Moonwalks and Party Rental is a guaranteed attraction at all the parties and events we deliver to! We have been providing fun party rentals for the South Houston area for years. We specialize in party rentals for events such as but not limited to backyard parties, school festivals, birthday parties, church carnivals, high schools, and businesses. We deliver the fun to your location with Water Slides, Bounce House with Slide, Tables and Chairs, Obstacle Courses, Bounce Houses, and Interactive Games. We deliver inflatable fun and all you need to complete the party is to have your guests show up ready for a fun time.
Our Service Area
Proud to Serve The Following Areas:
If your party or event is beyond that radius, just let us know! We may be able to make special accommodations to suit your event.
NOTE: Fees may vary depending on how far you are outside our service area.
https://www.google.com/maps/d/embed?mid=13n9_LXYWgVYG5Qs10ELG8eK5usg5JlTy&ehbc=2E312F
Customers Who Reserve A Gellyball Party Also Rent: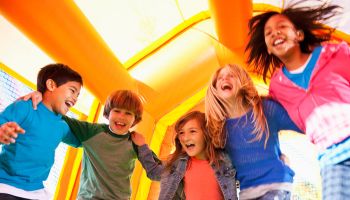 Bounce Houses
A bounce house is a perfect item for any party! Rent an inflatable bounce house for your next birthday party, corporate event, church gathering or just to have some fun. We have bounce castles for your next party.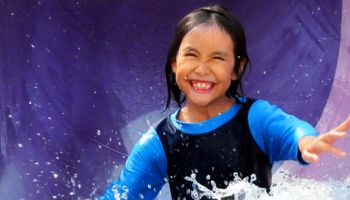 Water Slides
Looking for a great way to beat the Texas heat and have a good time? There's no better way than by sliding down a water slide and making a splash. We have a great selection of water fun!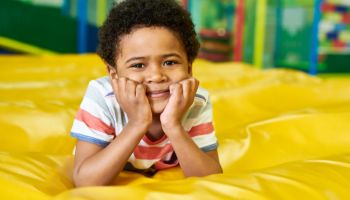 Bouncers With Slides
While everyone loves to bounce, they also like to slide. These inflatables combine the fun into one safe item for maximum fun. Many can also be used wet or dry, just check out the selection we offer.
Frequently Asked Questions About Renting Gellyball
Does the price include set and delivery?
Yes, although additional fees may apply for areas farther out. Remember prices do not include sales tax.
Do you deliver to other cities?
Yes, but once again please be aware that due to rising gas prices and the possible need for an extra truck and labor that travel fees can be quite high. Please call our office for a current quote.
Does the rental time include your set up time?
No. We arrive early to set up so you get the entire rental time to play.
That depends on how many rentals we have that day. Generally we arrive 1-3 hours before the rental time begins. If we have a lot of rentals that day, we may need to set up as early as 4 hours in advance. If this is the case, we will call the Friday before to confirm that someone will be at the party location.
We've rented some really dirty jumps from other companies in the past. Are they always that dirty?
No. The jump should be clean when you get it. Whataparty Moonwalks and Party Rental cleans and disinfects after every rental.